promotion / event
(Finished)Local Sake Festival "Chomeisen from Narita, Chiba edition"
(12/1/2018 ) (Sat) 〜 (2/26/2019 ) (Tue)
We will now introduce this local sake from Chiba Prefecture, which goes very well with the food.
Azuma Japanese Restaurant, a restaurant renowned for its hospitality and seasonal ingredients, as well as local Chiba-grown ingredients, is holding a celebration of local sake from Narita City, Chiba Prefecture, specifically Chomeisen.
Chomeisen is a sake with a mellow texture made with water from the springs that flow beneath the earth at Mt. Narita. (150 ml for ¥900)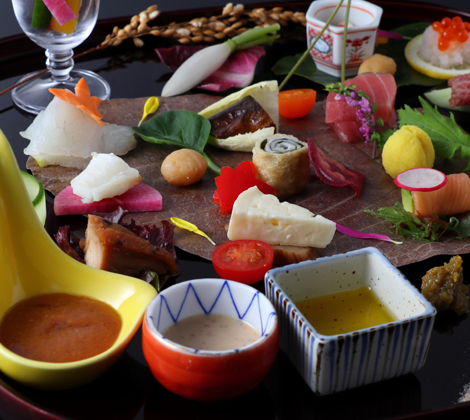 You can also enjoy the local sake and eat your fill of limited-edition seasonal snacks with the "Colorful Palette and Local Sake Festival" at the special price of ¥3,600 (down from ¥5,200).

For the main dish, you can choose from steak rice bowl, sushi, or rice cooked in a clay pot with snow crab meat.
Please take your time in our spacious restaurant and enjoy your meal and your sake as you look out through our large windows on the airport's night scenery.
Opening Hours:
5:30 pm – 10:00 pm (last order 9:30)
* Last order on Sundays and holidays is 8:30 pm

Price:
Colorful Palette and Local Sake Festival ¥3,600 (incl. tax)
* This price includes one cup of local sake.
Click here for detailed information on Azuma Japanese Restaurant