promotion / event
Announcements
(4/27/2019 ) (Sat) 〜 (6/30/2019 ) (Sun)
Our rich fried food and side dish menus are both all-you-can-eat!
HOTEL MYSTAYS PREMIER Narita is arranging a special pre-summer event: every day between April 27 (Saturday) and May 6 (Monday), we are hosting a special Golden Week Lunch Barbecue! Even after Golden Week finishes, you can still enjoy the barbecue on weekends in May and June.
Soak in the spring sun as you enjoy piping hot barbecue with a cold beer!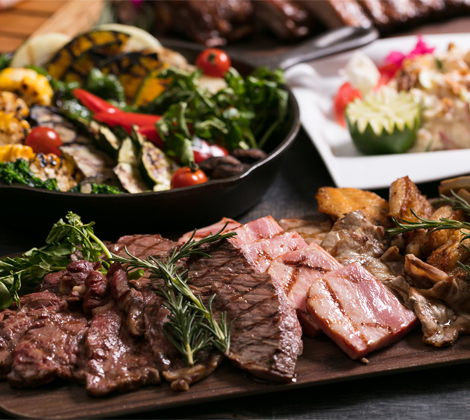 Special menu centered around a tasting comparison of various Japanese beef
Compare the taste of tender Japanese beef rib roast filled with umami with that of thick beef thigh! Last year's highly successful American French fry fair is back, allowing you to try fries topped with various sauces! On top of all that, we're going on a ramen tour of Japan, with a new dish every week from Hokkaido in the north to soki soba from Okinawa in the south! After your drinks make you peckish, ramen is just what'll hit that spot! We've also got a fantastic range of all-you-can-eat and all-you-can-drink offers for you to enjoy!


Barbecues

■ Dates:
Every day between April 27 and May 6
Saturdays and Sundays between May 11 and June 30

■ Opening hours:
11:30 am – 2:00 pm (last order 1:30 pm)

■ Price:
Adults: ¥3,900 (incl. tax)
Junior/Senior high school students: ¥2,900 (incl. tax)
Seniors (aged 60+): ¥2.900 (incl. tax)
Elementary school students: ¥1,900 (incl. tax)
Pre-school children aged 4+: ¥900 (incl. tax)

* Drink bar (soft drinks) included.

■ Drinks:
All-you-can-drink (alcoholic beverages): ¥2,000
¥500/drink

Draft beer / Sparkling wine / Whisky / Shochu Sour / Highball / Japanese sake / Wine (red or white) / Selection of cocktails / Drink bar (soft drinks), etc.