The oil-free recipe is healthy and is guaranteed to please female diners.
Horai Chinese Restaurant, a laid-back, adult restaurant overlooking the airport, is providing a Chinese banquet "Kofuku" course meal option between December 7, 2018 (Friday) and February 28, 2019 (Tuesday).
Despite being Chinese food, this course meal is prepared without using oil, making the dishes healthier and better for women's tastes, providing 22 dishes with 70 ingredients.
Incorporating seasonal ingredients, the food has a refreshing appearance and defies expectations for Chinese cuisine!
The Chinese restaurant Horai is currently on a reservation-only system.
Reservations are accepted until 3 pm the day before your intended visit. Please contact the hotel staff if you have any questions.
Course contents (total 14 dishes):
● Appetizer 1:
Jellyfish seasoned with yuzu citrus fruit / Dried tofu and red & white Oriental radish dressed with Japanese mustard greens / Whole shrimp pickled in Chinese rice wine / Sweetened pumpkin
● Appetizer 2:
Cantonese roasted pork served with Welsh onion / Steamed chicken served with spicy chive and Japanese pepper sauce / Sweet and spicy pickled soft Chinese cabbage / Lightly pickled green Sichuan vegetables
● Soup:
Crisp, clear soup of turnip and bamboo pith, the "queen of mushrooms"
● Dim sum:
Steaming hot Chinese Dumplings / Steamed shrimp and meat dumplings ● Fish 1:
Succulent shrimp served with sweet and spicy chili sauce and garnished with eggs cooked to fluffy perfection
● Meat 1:
Crunchy Peking duck served with crispy vegetable ingredients for rolls
● Fish 2:
Anglerfish and winter vegetables steamed in a bamboo steamer and served with miso-flavored soy milk ponzu sauce (soy sauce mixed with citrus juice)
● Meat 2:
Kinso chicken from Chiba prefecture stir-fried in piquant mala sauce with fragrant Sichuan hot pepper
● Granita:
Yuzu sherbet
● Fish 3:
Shark fin from Choshi stewed in a rich oyster sauce, served with garland chrysanthemum greens
● Meat 3:
Japanese beef sirloin steak served with soy-sauce-flavored fermented black soy bean sauce and salt from the Okhotsk sea
● Main dish:
Rice cooked with dried scallop and richly flavored with mushrooms or tantan-men spiced with fresh-ground Sichuan spices
● Dessert:
Chinese almond jelly with apple compote and flavored with wine containing sweet osmanthus flowers
● Tea:
Tea service
* Other courses are available from ¥6,800, ¥8,000, and ¥10,000.
Horai Chinese Restaurant
Closed:
Wednesdays (* Reservations on Wednesdays are possible upon inquiry)
Bookings:
Please make a reservation by 3 pm the day before your intended visit.
Number of people for whom a booking can be made:
From 2 to 28 people
Private room:
Free (for 6 to 10 people)
Bookable times:
Lunch 11:30 am to 1:30 pm (last order)
Dinner 5:30 pm to 8:30 pm (last order)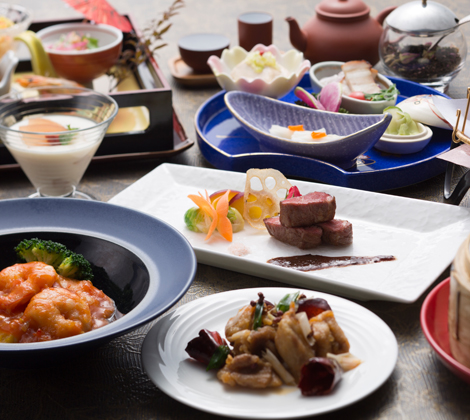 Click here for detailed information on Horai Chinese Restaurant