promotion / event
(Finished)Azuma Japanese Restaurant 1-Year Anniversary Crab and Winter Yellowtail Special à la Carte Banquet Menu
(2/1/2019 ) (Fri) 〜 (2/28/2019 ) (Thu)
We've prepared a special à la carte banquet menu of crab and winter yellowtail, at a reasonable price. Let's celebrate one year since Azuma opened!
Azuma Japanese Restaurant, a restaurant renowned for its hospitality and seasonal ingredients, as well as local Chiba-grown ingredients, is organizing a special à la carte banquet menu that will allow you to enjoy the taste of winter with delicious crab and winter yellowtail, from February 1, 2019 (Friday) to February 28, 2019 (Thursday). The yellowtail caught at this time of year have just the right amount of fat, and are said to be at their most delicious! You really must try them at least once in your life!
This delicious food is infused with our head chef's sense of gratitude toward our dear customers. Even the reasonable price of 3,900 yen was decided on to convey our thanks for a terrific first year, as "3-9" in Japanese is san-kyuu, which sounds similar to "Thank you!" Please come and enjoy a delicious meal!

Course contents:

■ Course name:
1-Year Anniversary Crab and Winter Yellowtail Special à la Carte Banquet Menu

■ Price:
¥3,900 (incl. tax)

Menu

・ Starter
Boiled rape blossom seasoned with soy sauce and served with whole-grain mustard

・ Appetizer
Triad of spring hors d'oeuvres

・ Sashimi selection
Winter yellowtail and one other seasonal fish
Variety of tsuma
(thinly sliced garnishes of daikon radish, etc.)
・ Nimono (a boiled/simmered dish)
Yellowtail and daikon cooked in soy sauce and petit vert
Thinly sliced "needle" yuzu (citrus)

・ Yakimono-gawari (a dish substituting for Japanese grilled fish)
Snow crab / seaweed / cucumber / vinegared crab
・ Warm dish
Shabu-shabu of spring vegetables and winter yellowtail
Spice / Ponzu sauce
・ Rice and soup dish
Rice cooked in a clay pot with snow crab meat / Japanese honewort
Red miso paste soup

・ Pickled vegetables
Two types

・ Dessert
Peanut pudding, strawberries and whipped cream

Azuma Japanese Restaurant

■ Closed:
Every Monday

■ Price:
¥3,900 (incl. tax)
■ Dates:
February 1 (Fri.), 2019 to February 28 (Thurs.), 2019
■ Opening hours:
・ Regular business 5:30–10:00 pm (last order 9:30)
・ Sundays and holidays 5:30–9:00 pm (last order 8:30)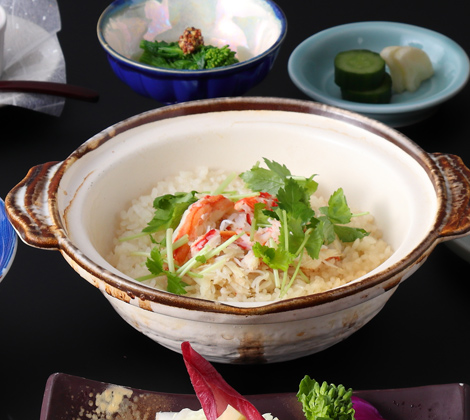 Click here for detailed information on Azuma Japanese Restaurant