promotion / event
(Finished)Horai Chinese Restaurant 1-Year Anniversary Special Course Menu Centered on Shrimp and Crab
(2/1/2019 ) (Fri) 〜 (2/28/2019 ) (Thu)
Let's celebrate the first anniversary of our rebranding! We have prepared a variety of 20 different dishes with a focus on cuisine made from shrimp and crab.
Horai Chinese Restaurant, a laid-back, adult restaurant overlooking the airport, is providing a variety of 20 dishes using shrimp and crab between February 1, 2019 (Friday) and February 28, 2019 (Thursday), to celebrate one year since the restaurant's rebranding. This is a special Xie-xie ("Thank You") à la Carte Banquet Menu that we have prepared for you. Even the reasonable price of 3,900 yen was decided on to convey our thanks for a terrific first year, as "3-9" in Japanese is san-kyuu, which sounds similar to "Thank you!" Please come and enjoy a delicious meal!

The Chinese restaurant Horai is currently on a reservation-only system. Reservations are accepted until 3 pm the day before your intended visit. Please contact the hotel staff if you have any questions.

Course contents:

■ Course name:
20 different dishes with a focus on cuisine made from shrimp and crab! "Xie-xie à la Carte Banquet Menu"

■ Price:
¥3,900 (incl. tax)

Menu

・ Appetizers 1
Whiteleg shrimp with the head on, with Shaoxing rice wine seasoning
Meeting with jellyfish citron
Sweet potato apricot wine syrup Chinese-style daikon radish seasoned with soy sauce (jiangluobo)
・ Appetizers 2
Sweet pickled snow crab claws
Rape blossom seasoned with sesame
Chinese-style angel prawn sashimi
Colorful root crops and Cantonese roasted pork

・ Soup
Extra-thick soup of shark's fin (caught in Choshi) with red snow crab

・ Dim sum
Crab dim sum topped with thick, ginger-flavored starchy sauce

・ Fish 1
Succulent shrimp served with sweet chili sauce and seasoned with citrus

・ Meat 1
Crunchy Peking duck served with Kujukuri Umikkonegi leek

・ Fish 2
Snow crab with puffy fried egg white, seasoned with umeshio salt

・ Meat 2
Sweet and spicy Beijing-style stir fry of kinso-dori chicken with Yachimata-grown peanuts

・ Granita
Yuzu sherbet

・ Fish 3
Chinese-style cream-simmered lobster gratin

・ Meat 3
Japanese beef sirloin steak served with spicy XO soy-sauce

・ Rice dish
King crab fried rice lightly topped with thick, starchy sauce

・ Dessert
Double-layered soup of almond jelly and strawberry

・ Tea
Chinese tea performance of your choice put on by the staff


Horai Chinese Restaurant

■ Closed:
N/A (available any day with a reservation)


■ Bookings:
Reservations are accepted until 2 pm the day before your intended visit.

■ Number of people for whom a booking can be made:
From 2 to 28 people


■ Use of private rooms:
Can be used at no extra fee
Can be used by between 6 and 10 people
■ Price:
¥3,900 (incl. tax)
■ Dates:
February 1 (Fri.), 2019 to February 28 (Thurs.), 2019
■ Opening hours:
・ Lunch 11:30 am – 2:00 pm (last order 1:30 pm)
・ Dinner 5:30–9:00 pm (last order 8:30 pm)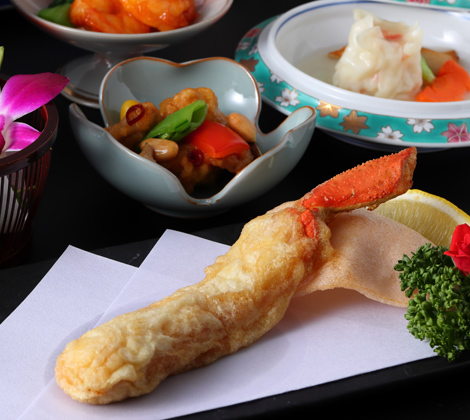 Click here for detailed information on Horai Chinese Restaurant